Kirsten Caroline Dunst born April 30, 1982 is an American actress, model, and singer. She made her film debut in Oedipus Wrecks, a short film directed by Woody Allen for the anthology New York Stories (1989). At the age of 12, Dunst gained widespread recognition playing the role of vampire Claudia in Interview with the Vampire (1994), a performance for which she was nominated for a Golden Globe Award for Best Supporting Actress. The same year she appeared in Little Women, to further acclaim.
Dunst achieved international fame as a result of her portrayal of Mary Jane Watson in the Spider-Man trilogy (2002–07). Since then her films have included the romantic comedy Wimbledon (2004), the romantic science fiction Eternal Sunshine of the Spotless Mind (2004) and Cameron Crowe's tragicomedy Elizabethtown (2005). She played the title role in Sofia Coppola's Marie Antoinette (2006), and she starred in the comedy How to Lose Friends & Alienate People (2008).
In 2001, Dunst made her singing debut in the film Get Over It, in which she performed two songs. She also sang the jazz song "After You've Gone" for the end credits of the film The Cat's Meow (2001). In early 2008, Dunst confirmed she was suffering from depression, checking into a treatment center before discharging herself in March and resuming her career.
Contents
* 1 Early life
* 2 Career
o 2.1 Early work
o 2.2 Critical success
o 2.3 Spider-Man and after
o 2.4 Music
* 3 Personal life
* 4 Filmography
* 5 References
* 6 External links
Early life
Dunst was born at Point Pleasant, New Jersey, to Inez (née Rupprecht) and Klaus Dunst. She has one younger brother. Her father worked as a medical services executive, and her mother was an artist and one-time gallery owner. Dunst is of German descent on her father's side, and Swedish on her mother's.
Until the age of six, Dunst lived in New Jersey, where she attended Ranney School. In 1991, she moved with her mother and younger brother to Los Angeles, California. In 1995, her mother filed for divorce.
After graduating from Notre Dame, Dunst continued the acting career that she had begun at the age of eight. As a teenager, she found it difficult to deal with her rising fame, and for a period she blamed her mother for pushing her into acting as a child. However, she later expressed that her mother "always had the best intentions". When asked if she had any regrets about the way she spent her childhood, Dunst said: "Well, it's not a natural way to grow up, but it's the way I grew up and I wouldn't change it. I have my stuff to work out ... I don't think anybody can sit around and say: 'My life is more screwed up than yours.' Everybody has their issues.
career
Early work
Dunst began her career when she was three years old as a child fashion model in television commercials. She was signed with Ford Models and Elite Model Management. At the age of eight years old she made her film debut in a minor role in Woody Allen's Oedipus Wrecks, a short film that was released as one-third of the anthology New York Stories (1989). Soon after, she landed a small part in The Bonfire of the Vanities (1990), as Tom Hanks's daughter. In 1993, Dunst played Hedril in "Dark Page," the seventh episode of the seventh season of Star Trek: The Next Generation.
success
The breakthrough role in Dunst's career came in Interview with the Vampire, a 1994 film based on Anne Rice's novel, in which she played the child vampire Claudia, a surrogate daughter to Tom Cruise and Brad Pitt's characters in the film. The film received ambivalent reviews, creation of the child vampire Claudia was one of the "creepier" aspects of the film, and mentioned her ability to convey the impression of great age inside apparent youth. Todd McCarthy in Variety noted that Dunst was "just right" for the family. The film featured a scene in which Dunst received her first kiss from Brad Pitt, who was 18 years her senior.In an interview with Interview magazine, she revealed, while questioned about her kissing scene with Pitt, that kissing him had made her feel uncomfortable: "I thought it was gross, that Brad had cooties. I mean, I was 10. Her performance earned her the MTV Movie Award for Best Breakthrough Performance, the Saturn Award for Best Young Actress, and her first Golden Globe Award nomination.
A blond woman signs autographs. She is wearing a navy top with gold detail.
Dunst at the 2005 Toronto International Film Festival
Later in 1994, Dunst appeared in the adaptation of the drama Little Women opposite Winona Ryder and Claire Danes. The film received favorable reviews: critic Janet Maslin of The New York Times wrote that the film was the greatest adaptation of the novel and remarked on Dunst's performance, "The perfect contrast to take-charge Jo comes from Kirsten Dunst's scene-stealing Amy, whose vanity and twinkling mischief make so much more sense coming from an 11-year-old vixen than they did from grown-up Joan Bennett in 1933. Ms Dunst, also scarily effective as the baby bloodsucker of Interview With the Vampire, is a little vamp with a big future."
In 1995, she appeared in the fantasy movie Jumanji, loosely based on Chris Van Allsburg's 1981 book of the same name. The story is about a supernatural and ominous board game which makes animals and other jungle hazards appear upon each roll of the dice. She was part of an ensemble cast that included Robin Williams, Bonnie Hunt, and David Alan Grier. The movie grossed $100 million worldwide. That year, and again in 2002, she was named one of People magazine's 50 Most Beautiful People. In 1996, Dunst had a recurring role in the third season of NBC's medical drama ER. She portrayed a child prostitute, Charlie Chiemingo, taken under the guidance of Dr. Doug Ross, played by George Clooney. In 1997, she was the voice of Young Anastasia in the animated musical film Anastasia.Also in 1997, Dunst appeared in the political satire Wag the Dog, opposite Robert De Niro and Dustin Hoffman.[21] The following year she was the voice of the title character, Kiki, a 13-year-old apprentice witch who leaves her home village to spend a year on her own, in the anime movie Kiki's Delivery Service (1998).
Dunst was offered the role of Angela in the 1999 drama film American Beauty, but turned it down because she did not want to appear in the film's suggestive sexual scenes or kiss co-star Kevin Spacey. She later explained: "When I read it, I was 15 and I don't think I was mature enough to understand the script's material."[13] That same year, she appeared in the comedy Dick, alongside Michelle Williams. The film is a parody retelling the events of the Watergate scandal which lead to the resignation of U.S. president Richard Nixon.
In Sofia Coppola's independent film The Virgin Suicides (1999), Dunst played the role of troubled adolescent Lux Lisbon. The film was screened as a special presentation at the 43rd San Francisco International Film Festival in 2000. The movie received generally favorable reviews,[ and San Francisco Chronicle critic Peter Stack noted in his review that Dunst "beautifully balances innocence and wantonness.
kirsten dunst
kirsten dunst
kirsten dunst
kirsten dunst
kirsten dunst
kirsten dunst
kirsten dunst
kirsten dunst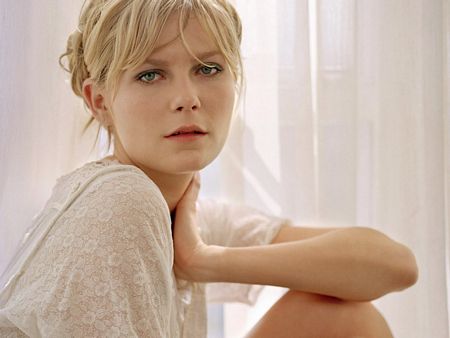 kirsten dunst
kirsten dunst
kirsten dunst
kirsten dunst
kirsten dunst
kirsten dunst
kirsten dunst
kirsten dunst
kirsten dunst
kirsten dunst